Scheduled posting on WhatsApp: how to do it quickly and simply
Scheduled posting on WhatsApp
To start planning a post, click on "Schedule a post":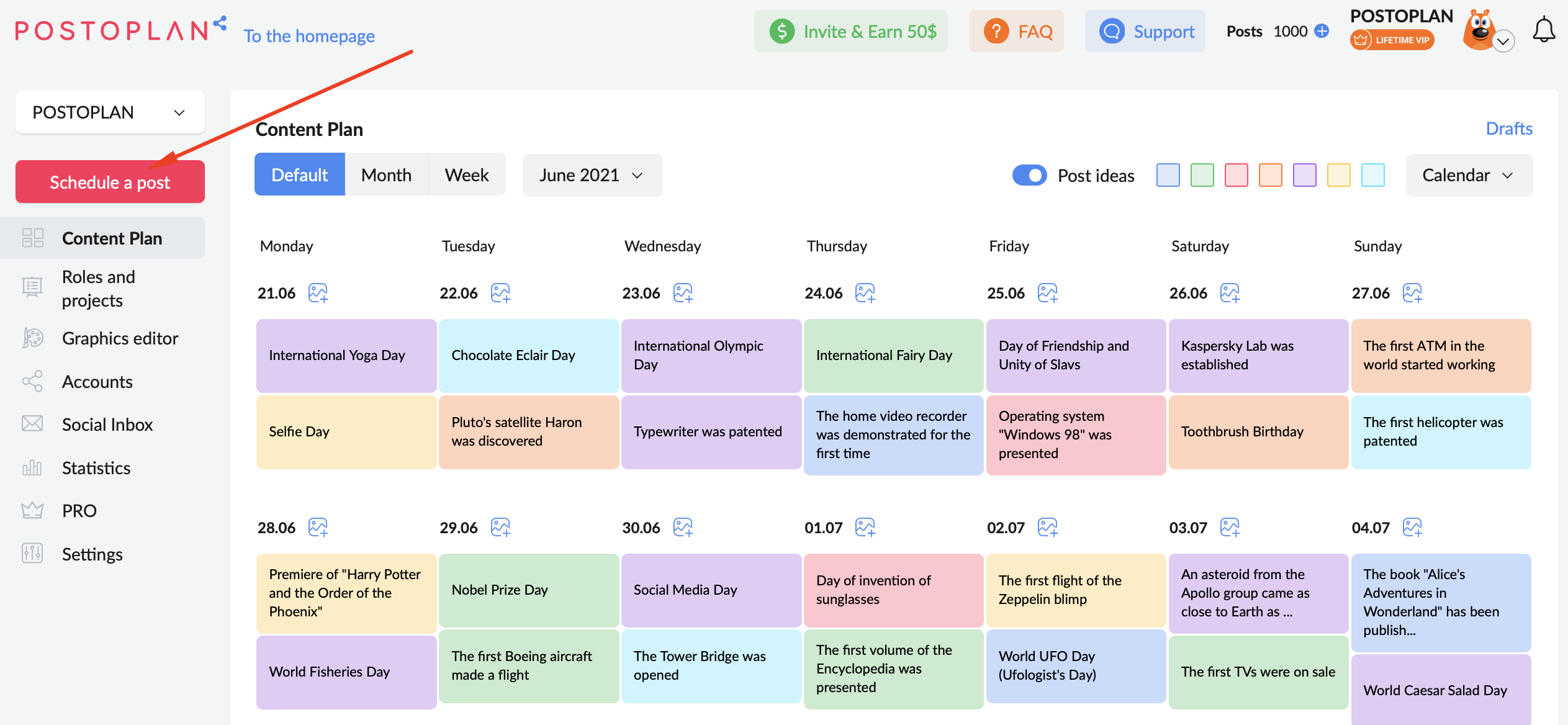 To add text, click on the "Schedule a post" field: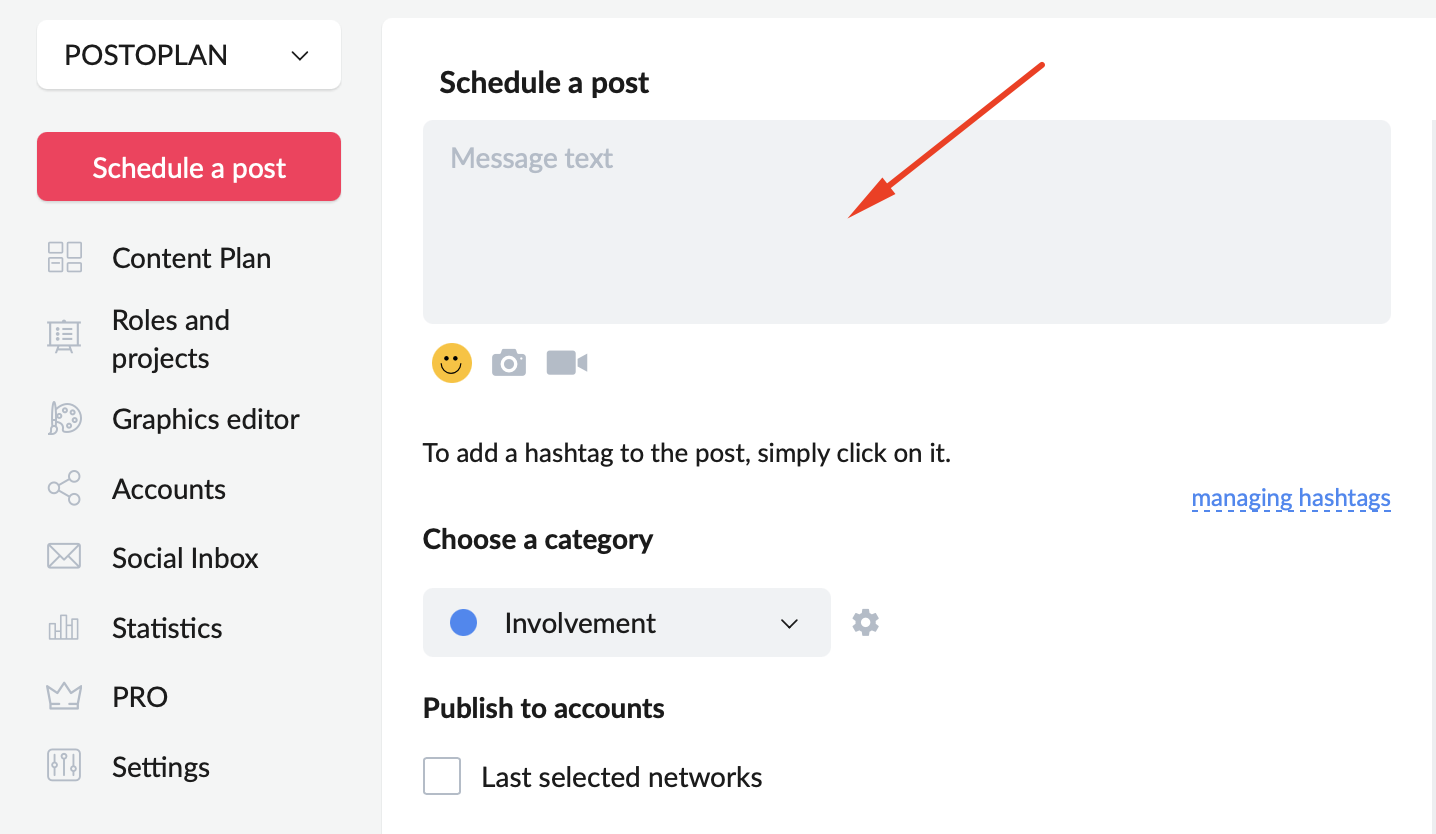 To add an emoticon to the text, click on the emoji icon: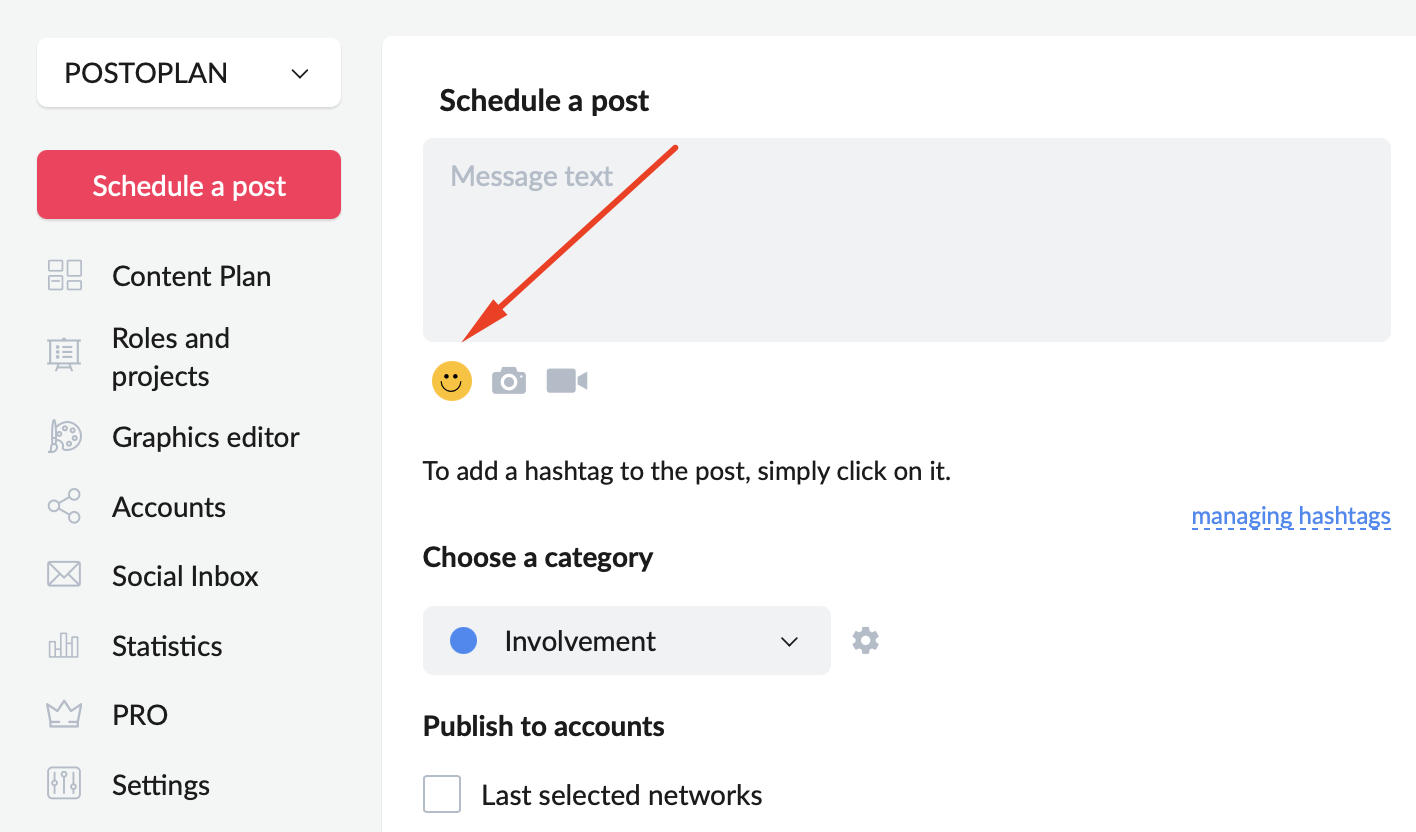 Choose the most suitable emoji and click on it: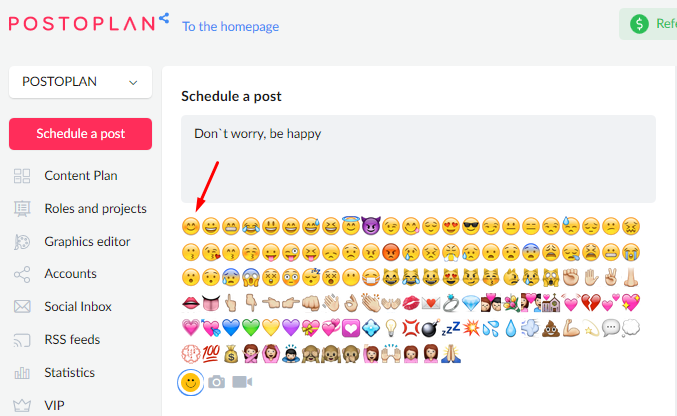 To add an image or video to the post, click on the appropriate icon: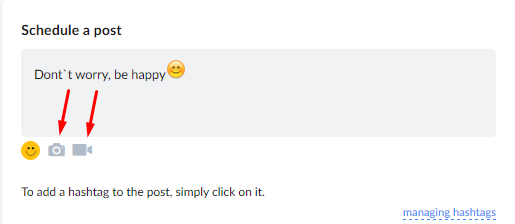 Choose the post category by clicking on the arrow in the "Сhoose a category" section: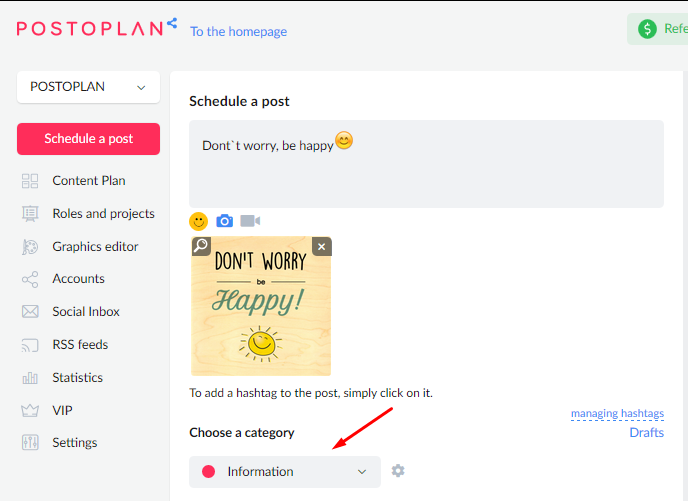 Choose the most suitable category and click on it: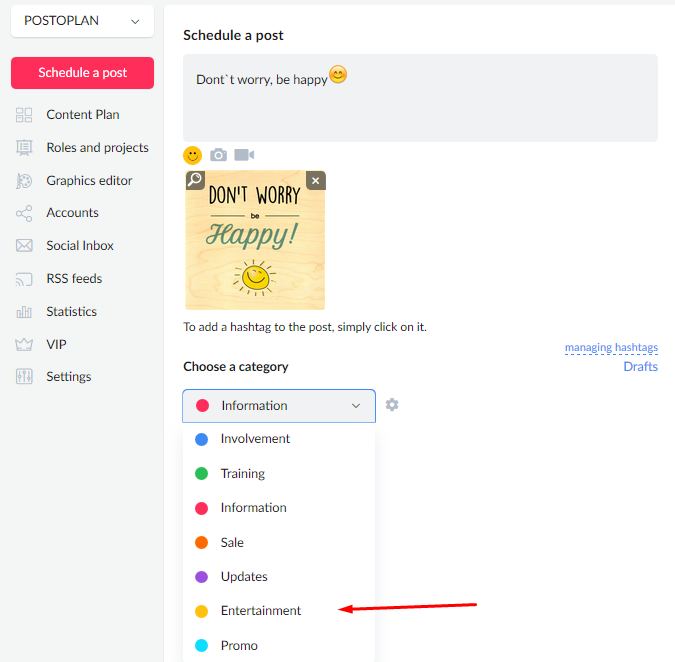 Then, select the groups/pages on which the post should be published. If there is only one account added to the project, it will be already selected by default, and in this case, the post will be immediately displayed in the Preview section.
If you've added several accounts, a preview of the post will be available for all of these accounts. By clicking on the social network icon, we can see how the post will look on the relevant social network.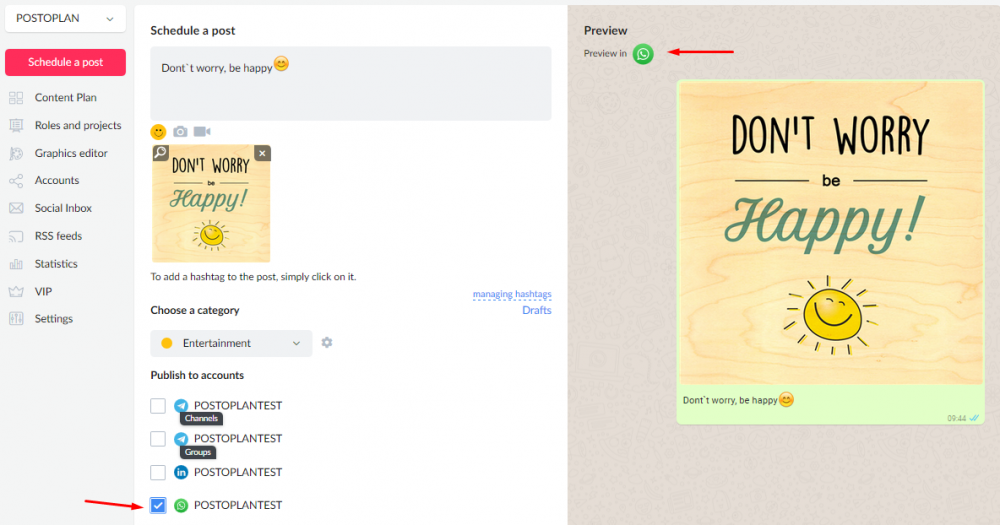 Select the desired date and click on it: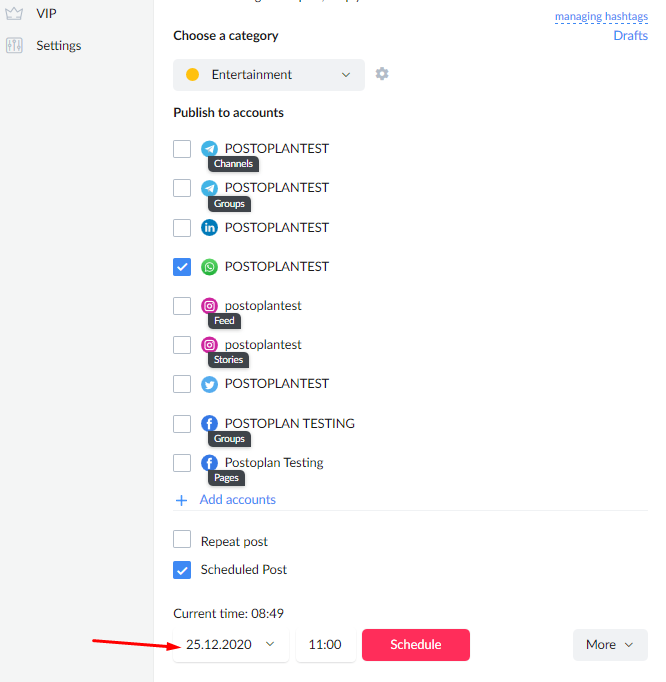 To choose the exact time for publishing, click on the appropriate cell and enter the required numbers: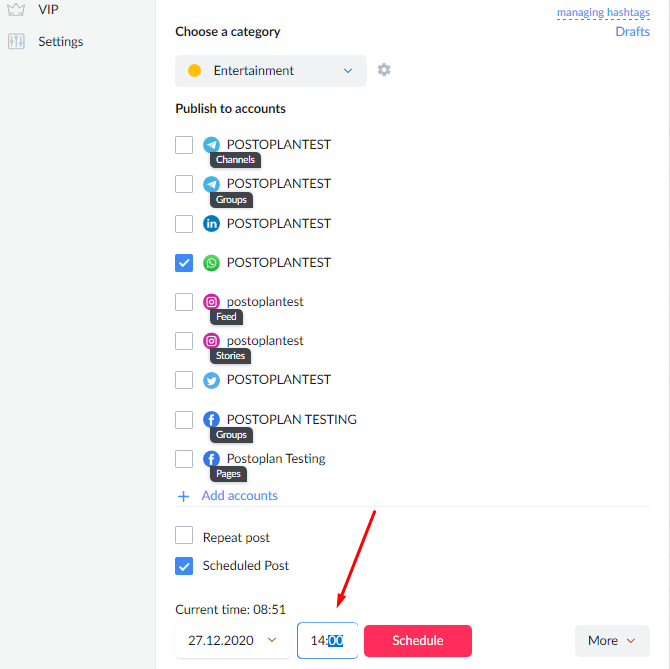 Then, click on "Schedule":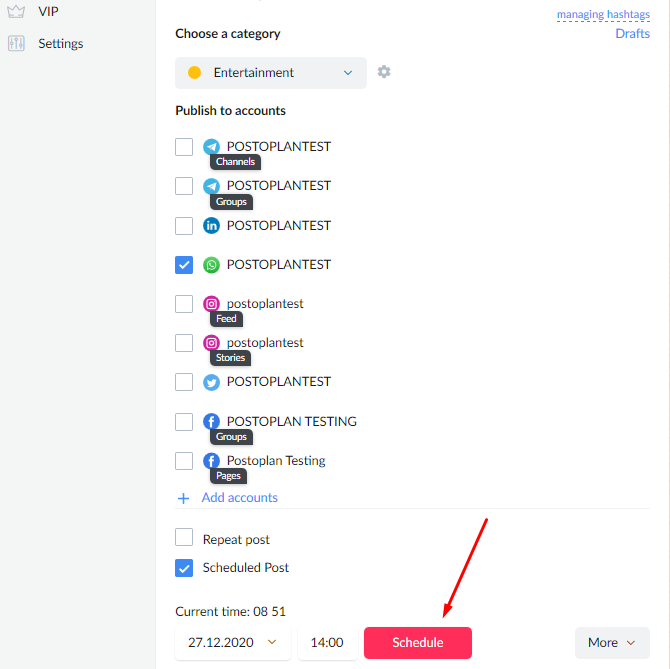 Benefits of Scheduled Posting on WhatsApp
SMM specialists at large companies cannot go a day without scheduled posting services—they manage an impressive number of accounts, each of serving to routinely remind subscribers of the products and services SMMs represent. The same goes for large digital agencies that simultaneously work with several companies.
Saving time and effort with scheduled posting allows professionals to pay more attention to content strategy, advertising materials, customers, and bloggers. Let's learn more about the benefits of scheduled posting on WhatsApp.
1. Timely posting of quality content
The biggest benefit of scheduled posting on Whatsapp is content quality support. POSTOPLAN allows you to create content much earlier than it is posted. Thanks to scheduled posting, you can clearly maintain the intervals between Whatsapp messages. 
Scheduled posting allows you to schedule multiple posts for the whole week, for example, on Sunday. Thus, an SMM specialist can focus on other tasks. As a result, the content quality is significantly improved.
2. Achieving maximum audience coverage
It is not a good idea to post content on WhatsApp manually, especially if your audience lives in a different time zone. This is particularly important for accounts of international companies aimed at reaching audiences across multiple time zones.
With scheduled posts on WhatsApp, content is posted automatically at the time you choose. Whether it is 6:00 pm or 3:00 am, the content will still appear in your followers' feed. This way, you can reach the maximum number of people in minimum time.
3. Systematic increase in posting efficiency
Scheduling WhatsApp content can help you improve your social media experience. Numerous studies have shown that multitasking reduces your efficiency and performance. Short-term mental blocks due to switching between tasks take up almost 40% of your productivity time.
Excessive advertising content on business accounts puts people off. They are not interested in it. That is the reason for the 80/20 rule—80% should be creative content, and only 20% should be self-promotion. This approach allows you to entertain your subscribers and get new clients at the same time. Auto-posting on WhatsApp helps you put the 80/20 rule into practice. Content planning allows you to work according to the chosen promotion strategy, make better use of your time, and post high-quality content.
Does WhatsApp penalize for auto-posting?
It is often said that WhatsApp penalizes for the use of third-party publishing tools. POSTOPLAN has conducted an experiment to see if this is true. We found that there was no significant difference between content posted automatically or manually. Therefore, we're extremely confident that there is no penalization for WhatsApp auto-posting. You can use posting services as many as you want at any time.
WhatsApp Customer Service Tips & Tricks
For most brands, WhatsApp is primarily a customer service channel. For people who use WhatsApp as their basic digital communication tool, it is a truly convenient platform for addressing questions or concerns to companies.
Of the eight ways users communicate with brands, messaging ranks second most popular, (the other seven being emails, phone calls, social media, SMS, VoIP, video chat, and in-person conversations). 53% of people are more likely to buy from a brand they can ask for help via instant messenger.
It's fast, easy, and doesn't take up too much of a customer's time. It's no surprise that WhatsApp is the favorite consumer service channel. When used properly, WhatsApp becomes the best customer service tool. Let's consider the basic rules.
1. Always reply within 12 hours
It might well seem pointless, but quick replies are the backbone of successful WhatsApp customer service. Ultimately, 42% of people who write to a brand via a messenger expect a reply in less than an hour. In addition, the faster business replies to customers, the more clients are willing to pay to get products.
Don't lose your loyal and potential customers; use this messenger to the maximum. The messenger has over 1.5 billion active users, but businesses are in no hurry to use WhatsApp for marketing purposes. It is necessary to deal with the messenger as long as there is no fierce competition.
2. Take advantage of different message formats
WhatsApp offers many features that make communication easier for both the business and the customer. Using WhatsApp, you can send photos, videos, locations, GIFs, PDFs, and even voice recordings.
The variety of formats allows you not to be limited to replying to your customer requests only in text. Brands can send video tutorials or PDF guides to help users with more complex problems, and users can send screenshots or videos demonstrating the issues they have.
Moreover, you can improve communication with the customers by using GIFs.
3. Use WhatsApp chatbots
If you have access to the WhatsApp Business API, you can add a chatbot to your business account to automatically answer the frequently asked questions. It will save you time and hassle.
However, you cannot leave all requests to the discretion of the bot. The chatbot should function as an automatic FAQ, and you need to have someone who can answer less common questions and provide personalized responses.
If you don't have access to the API, you can still set up automatic messages and greetings using the WhatsApp Business app.
4. Publish your service number on WhatsApp
There is no point in setting up and offering customer service through WhatsApp if no one knows about it. After creating a business account and assigning an employee to manage it, add a link, button, or phone number wherever possible: on social networks, on your website, and in emails. The more people know about it, the more effective WhatsApp will be for your business.
5. Process high volumes of messages via WhatsApp Web
Trying to answer the volume of messages using only your phone is unrealistic. It is time-consuming and not scalable, not to mention a real pain in the hands.
Fortunately, users can send and receive messages through their browser using WhatsApp Web. This option allows you to make helpdesk service faster and more efficient.
WhatsApp Marketing Tips & Tricks
WhatsApp is definitely not the most obvious marketing channel. You cannot initiate conversations with clients, except for sending non-promotional notifications.
However, these barriers also have a positive side: although WhatsApp has over 1.5 billion users, only a small number of businesses actively use the platform for marketing purposes. This means less competition and an audience that will be less annoyed and more receptive to your marketing campaigns.
In addition, the limitations of marketing opportunities on WhatsApp will spur you to be more innovative in your promotion strategy and try new ways to attract users.
1. Use WhatsApp Status to reach a wider audience
WhatsApp Status is a popular Stories format in WhatsApp. It has over 450 million daily active users, which is significantly more than 300 million on Facebook Stories and 186 million on DAU Snapchat.
By ignoring the use of WhatsApp Status to connect with your business audience, you lose a major communication channel. Don't you know what content to post in it?
One of the options is to use the Status to increase brand awareness and customer loyalty through entertaining stories about life in your office or an event you are attending. This option can also be used in other marketing promotion strategies on Facebook and Instagram Stories.
2. Attract users through WhatsApp groups
If you want to build a community around your brand on WhatsApp, groups are the best bet. They allow adding up to 256 people in a group to interact with your business and with each other.
BUT: Please be aware that WhatsApp Group is solely for customer service. WhatsApp expressly prohibits the use of its platform for sending marketing or advertising messages, unless they give written permission to do so.
Let WhatsApp Group be your branded channel where anyone can ask questions or discuss your latest products or campaigns. Since groups are limited, there is a bit of exclusivity in them. You can take advantage of this by spreading the word through other channels that the first 256 people joining the group will have access to special discounts and offers, for example.
However, WhatsApp Group has untapped potential for content marketing. Since WhatsApp allows you to send links, images, videos, PDFs, and more, why not make a newsletter model using people who subscribe to your news, blog articles, and videos? It is very convenient.
BBC Africa has experimented with distributing content on WhatsApp with the 'Young, angry and connected' video. They sent short videos to WhatsApp users who signed up for the newsletter. The result was great success on an unconventional communication channel.
3. Experiment with non-traditional campaigns
Before you can contact users, they must write to you first. Since you cannot take the first step, you need to be creative.
The purpose of marketing on WhatsApp is to motivate users to text you, provide their phone number, or join your groups. You have to make it worth their time.
Let's take the Buyagift online store, for example. They created a landing page on their website that showed their WhatsApp number and guaranteed valuable coupon codes to those users who sent the 'Start' word to the specified WhatsApp number.
Or let's consider Absolut Vodka. They promoted a new product launch with an exclusive party and used WhatsApp for a marketing campaign to give out tickets to the event.
They invented a fictional manager named Sven who people could contact via WhatsApp and persuade him to give them tickets. As a result, Absolut Vodka received three days of continuous messages, over 600 contacts, and over 1,000 pieces of user-generated content for the campaign.
The key here is that being creative and offering tangible advantages to people who interact with your business on WhatsApp can generate new customers, motivate deep involvement, and increase brand awareness.
POSTOPLAN is the best management system for social media sites and messengers (Facebook, Twitter, Telegram, LinkedIn, WhatsApp, Instagram, and Google My Business), which has no equal on the Internet. The service is unique and is a strong competitor to Hootsuite, Buffer, AgoraPulse, Sprout Social, and other platforms. POSTOPLAN offers the best quality/price ratio in the field of automatic posting on social networks and instant messengers.