Scheduled posting on Twitter: how to do it quickly and easily
Scheduled posting on Twitter
To start planning a post, click on "Schedule a post":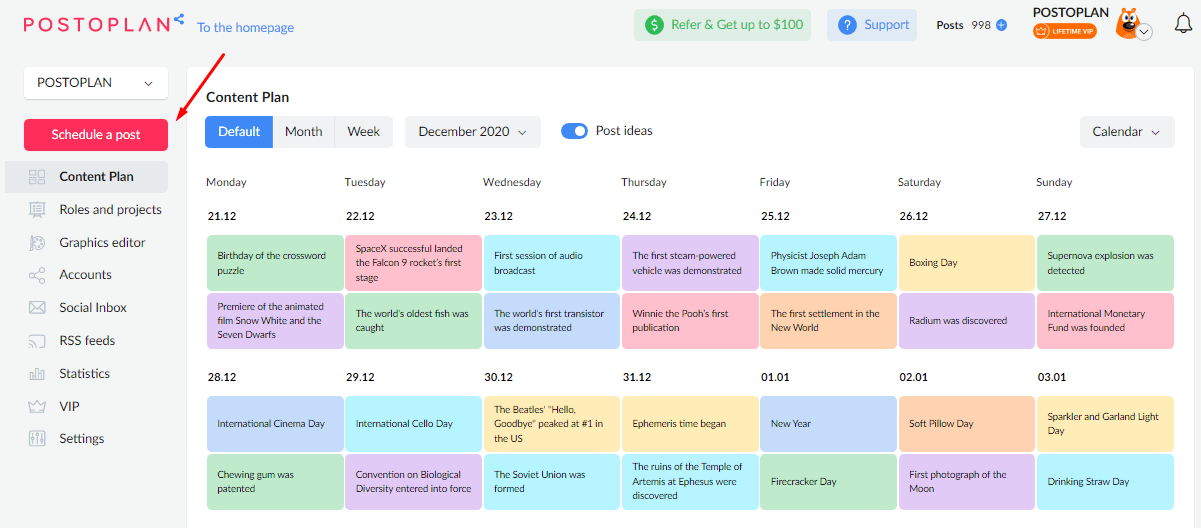 To add text, click on the "Schedule a post" field: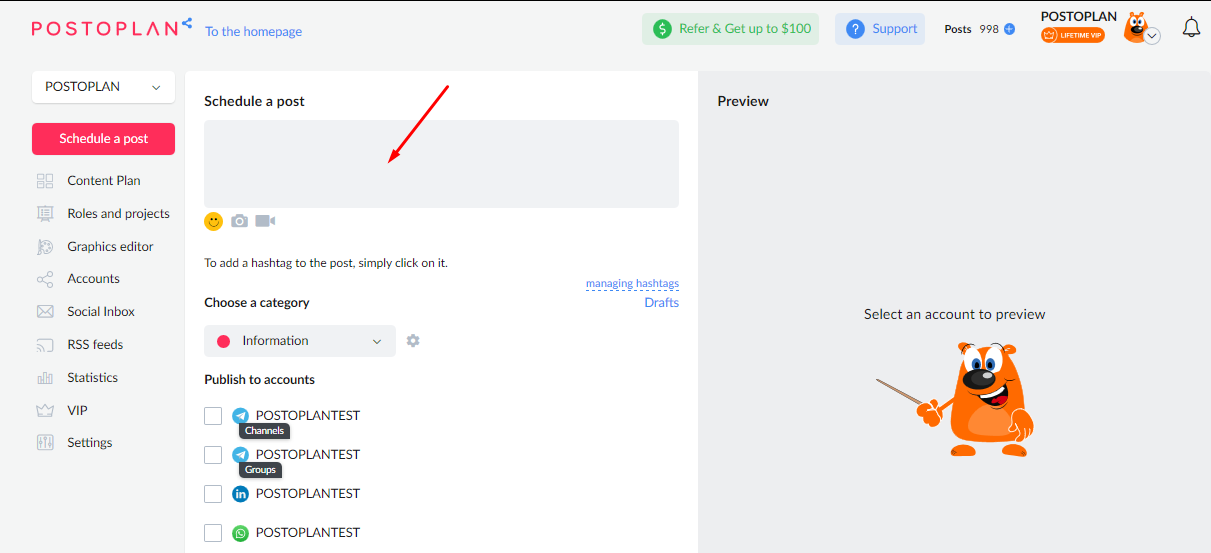 To add emoticons to the text, click on the emoji icon: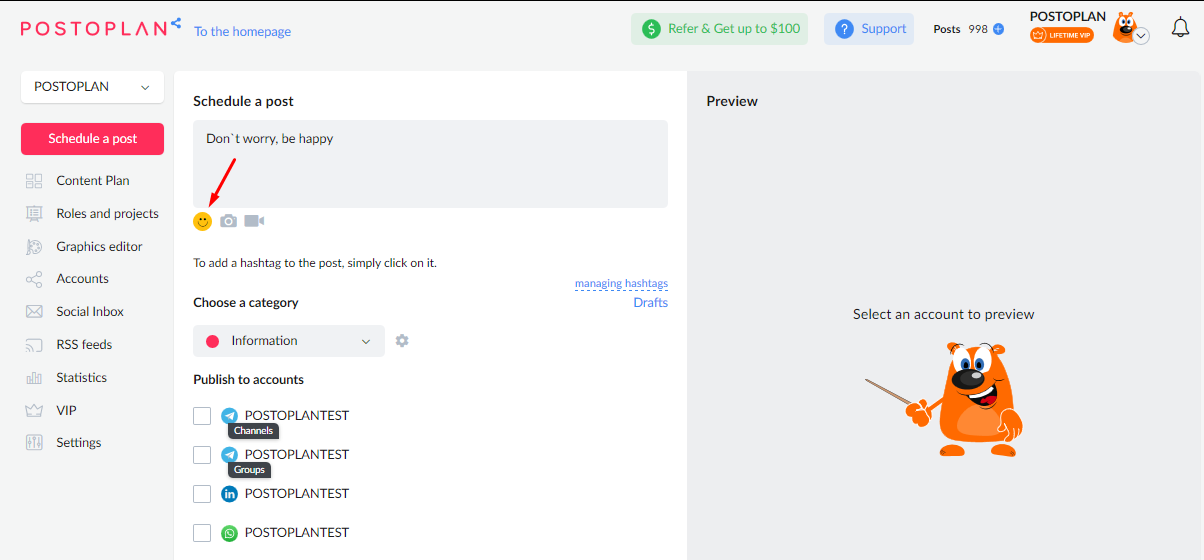 Choose the most suitable emoji and click on it: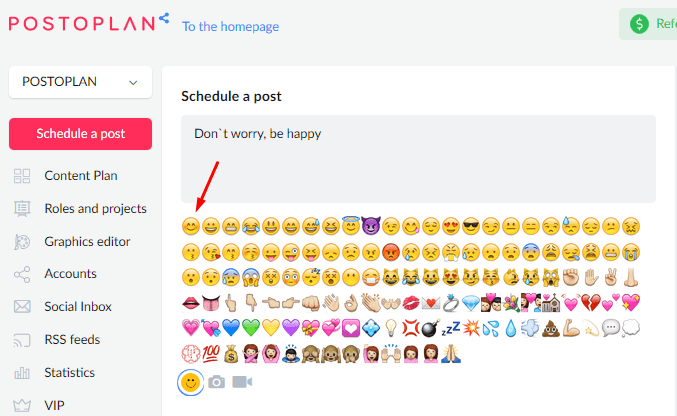 To add an image or video to the post, click on the appropriate icon: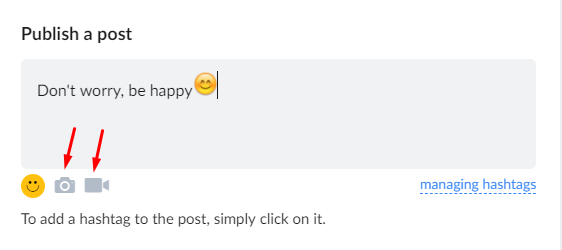 Choose the post category by clicking on the arrow in the "Сhoose a category" section: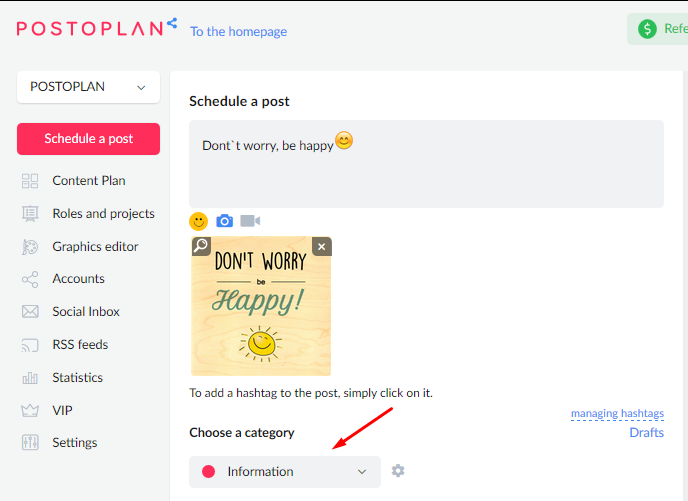 Choose the most suitable category and click on it: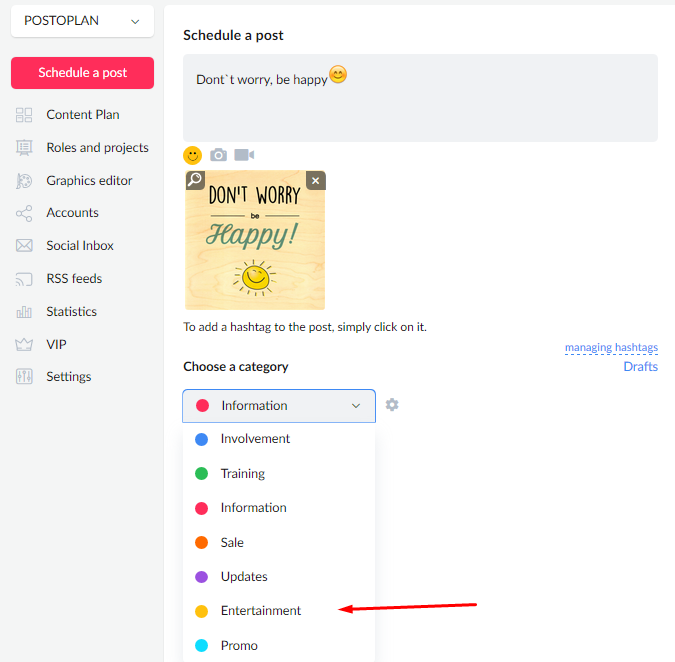 Then, select the groups/pages on which the post should be published. If there is only one account added to the project, it will be already selected by default, and in this case, the post will be immediately displayed in the Preview section.
If you've added several accounts, a preview of the post will be available for all of these accounts. By clicking on the social network icon, we can see how the post will look on the relevant social network.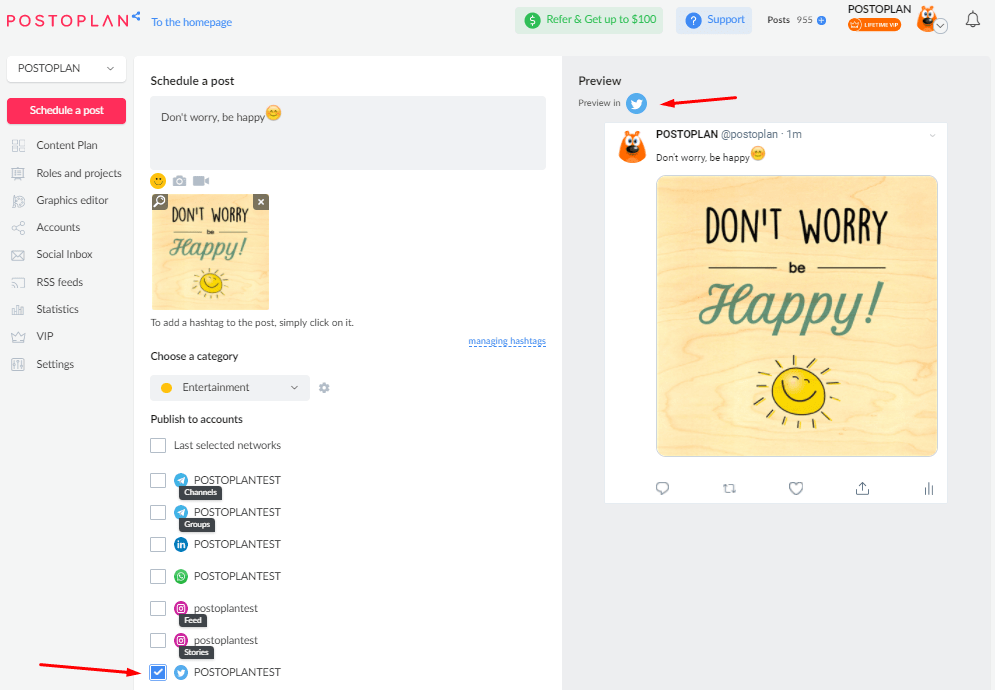 Select the desired date and click on it: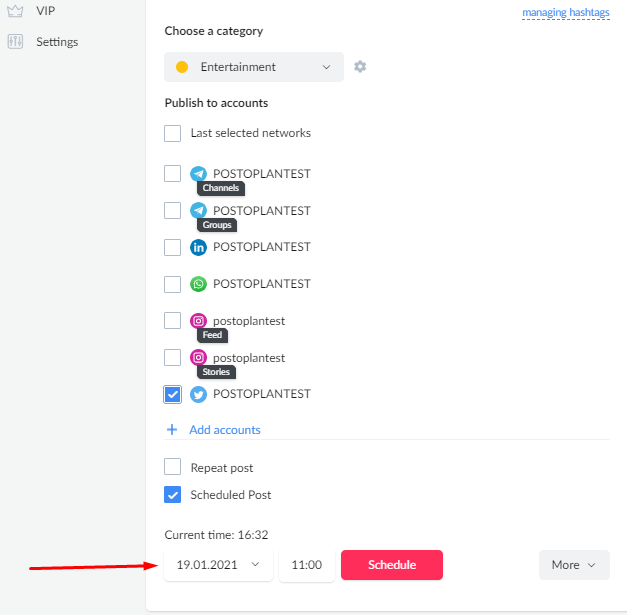 To choose the exact time for publishing, click on the appropriate cell and enter the required numbers: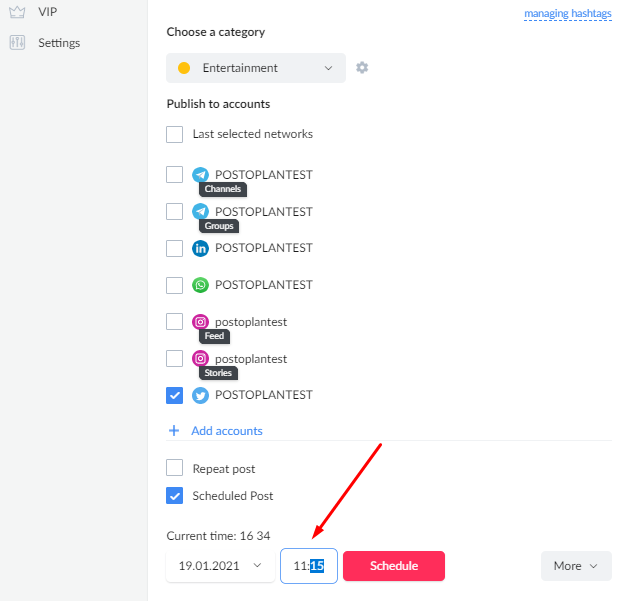 Then click on "Schedule":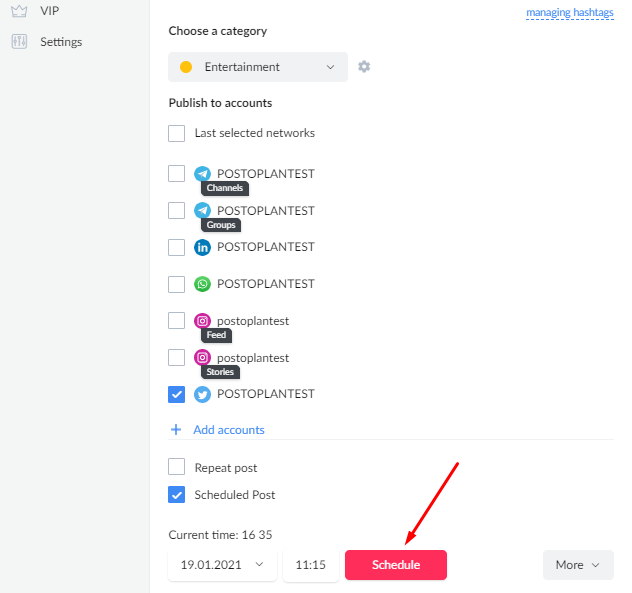 Publication life hacks: Twitter
Make working on Twitter easier, more productive, and more efficient with these life hacks:
Divide your subscriptions into lists. If you're subscribed to a large number of people, categorize them to easily follow their tweets.
How to do this: 
Go to the "Lists" section and click on "Create" a list. Then, fill in the "Name" and "Description" fields and check "Make private", if you don't want your lists to be visible to others.
View the actions feed of a preferred user. If you're wondering what a person does besides tweeting, go to his or her profile, and then to the "Likes" section.
Mute the tweets from people you read. If some of your subscribers are too "sociable" and post 100 tweets per hour, you can mute them.
How to do this: 
– Go to the feed;
– Find the post of the person you want to mute;
– Click on the "down arrow" at the upper right of the post and select "Mute".
Turn off retweets. If you no longer want to see the strange retweets of your subscriptions, turn them off. 
How to do this: go to the user's profile, click on the three points to the right of his avatar, and select "Turn off retweets".
Advantages of scheduled posting on Twitter
1. Provides flexibility
If you have an active lifestyle and you cannot guarantee that your social network accounts will be updated regularly every day at the same time, leave it to the POSTOPLAN system! When planning to publish on social networks using this system in advance, you do not need to control the time to publish content. Auto posting allows you to make your schedule more flexible.
 
2. Coverage increases
Because working days are going fast, it is very difficult to manually publish content while your audience is online on social networks. By using scheduled posting, you maximize your tweets' reach and their effectiveness.
 
By creating original content and posting it throughout the day, you increase your credibility as an opinion leader in your niche. Not less important is to add relevant content from partners and friends. The more content users see in their feed, the more recognizable your brand becomes, and the better coverage you get.
 
Another way to increase visibility in the feed is to publish tweets up to 110 characters long. Tweets that are shorter than 110 characters get 17% more activity, and it is easier for people to retweet and add their comments to short tweets. Using images can increase the number of retweets by 150%.
 
It's also worth noting that Google has recently started showing tweets in search results, so the links in tweets become more visible and useful. Although the search engine does not index these links, their effectiveness is not diminished. Tweeting links will increase your visibility and attract more traffic to your site.
 
3. Saving time
For a multi-disciplinary professional, pre-planning social media activities can save a lot of time. By planning tweets ahead of time, you can increase the number of tweets and spend the rest of your time solving other tasks.
 
The more you write, the more visible your Twitter account is. It's simple math. Of course, it's not about tweeting your followers until they turn off notifications or unsubscribe from you. Using the POSTOPLAN social media management system, you can evenly post your tweets during the day, making them an interesting set of information rather than an intrusive flow of messages.
 
No matter where you are, auto posting helps keep your Twitter profile fresh and active. You must have "strong" content — at least one catchy tweet during the day is required to keep your audience interested. And less attractive posts can be used to complete your publication schedule.
 
4. Ensuring content quality
The biggest advantage of scheduled posting on Twitter is the support of content quality because you create the content much earlier than the actual time of publication. Also, scheduled posting allows you to keep certain time intervals between tweets.
 
For example, on Monday you plan all fifteen tweets 3 days in advance. Since the content is published automatically, all posts will definitely be published, even if you are busy. Auto posting will do everything for you. And since you spend time on tweets in advance (rather than thinking about the topic every time before publication), the quality of the content you publish increases.
Does Twitter penalize you for using auto posting?
It is believed that Twitter penalizes your account for using auto posting, which reduces the effectiveness of tweets. This belief is wrong; Twitter does not impose any restrictions for using scheduled posting tools.
 
To make sure of this, we conducted our own research that showed that auto posting does not negatively affect the coverage of tweets. Moreover, 20% of automatically published tweets had better statistics than manually published tweets.
9 powerful marketing tips on Twitter
1. Set a clear name, address, and profile photo
The profile address on Twitter should be recognizable, easy to remember, and short enough for people to tweet you easily.
Make sure your brand's account names are the same on all social networking sites. Using a name different from your brand or company name can confuse subscribers or make it difficult to find your page.
For example, the H&M brand. Twitter doesn't have the ability to use the "&" symbol in their profile address, so they just shortened their address to "@hm."
The brand name "H&M" is instantly catchy, short, and easy to remember. The brand address is even easier to remember. "H&M uses the same address on all its social media pages. No unnecessary symbols are added, making it easier to find their pages.
If you're just starting out with your Twitter account, come up with an address that's as close as possible to your brand name.
Try not to use unnecessary numbers or punctuation marks. Keep the address short and clear. With this address, you will receive @mentions from other users and brands more often. People are less likely to mention companies with long addresses because of the limited number of characters in each tweet. You should also make sure that your profile picture is as recognizable as possible.
Each time someone interacts with your Twitter account, your brand awareness increases. Big brands understand how important permanent branding is, so they almost always use their logos as profile images.
It is better to use a concise and simple logo. Use a logo that can be recognized even after compression, as people will view your profile on devices of different sizes.
2. Showcase your uniqueness with your biography
Your biography on Twitter is a 160-character area with which you can display your personality. The biography allows you to explain to the audience what your brand is.
The key points to consider when creating a CV:
Accuracy. Tell about your brand without being too wordy.
Include a little personality or humor. Do not be afraid to write something original and extraordinary in your biography.
Show your achievements. If your brand has great achievements, tell people about them.
Do not deviate from the subject. A biography should attract your target audience, not repel it.
Add appropriate hashtags so that people can find your account when they search for it. Remember to mark the other brands you are involved with.
3. Publish tweets during rush hour
There are certain days of the week or times of day when users are most active on Twitter. The more people are present on the social network, the more interaction with your content you will get.
By identifying the hours and days of peak audience activity and posting your content during these periods, you will get more impressions, more engagement, and more interactions.
Our research has shown that tweets published on Friday, Saturday, and Sunday have higher rates than those published on other days of the week.
The best time to publish is from 12:00 to 18:00, but this does not guarantee maximum engagement of your audience. You need to analyze your own statistics and determine when to publish tweets most effectively.
Once you have determined the best time for posting, use POSTOPLAN to plan your tweets in advance.
4. Reduce the number of hashtags used to a minimum (and use the correct ones)
Tweets containing hashtags get twice as many interactions as those without hashtags. However, tweets that have more than two hashtags get 17% fewer interactions. It is important to use correct hashtags and not to abuse them. Only use hashtags that are relevant to the subject of your tweets. By the way, Twitter analytics allows you to identify the most popular hashtags.
5. Add images to your tweets
By adding images to your tweets, you get more interaction than without it. In fact, tweets with images get 89% more interactions.
Be sure to add only convincing and high-quality images. Never use images that are not related to the subject of your tweets just to add them.
If you are posting on Twitter about a recent blog post on the site, add an image from this article with a link where users can find more information. Or, if you want to write about a new product or service, add an image that fully demonstrates it.
6. Use videos in tweets
Pictures attract more attention than plain text, but video exceeds images in popularity.
Twitter allows users to record video from their device or upload existing videos.
Just add branded videos to your tweets, and you'll automatically have more interaction with your brand.
According to AdWeek, videos are six times more likely to be retweeted than photos and three times more likely to be retweeted than GIFs.
Video is an excellent way to spread new information, and it's also the best way to showcase your brand's inner "kitchen," evoke emotions in your audience, and get targeted action. Live videos are just as successful; don't forget about these.
7. Conduct surveys and interact with subscribers
One of the easiest ways to increase activity on your Twitter page is to create a survey.
Surveys are not just interesting for subscribers. They can be used to conduct consumer and market research, get feedback, and initiate communication with subscribers.
However, you should not create typical questions. It's best to think about creating a truly extraordinary survey that is useful and interesting to your audience.
Pay attention to other brands that have successfully used social media surveys.
And don't forget to use Creative Action Alerts (CTAs) to stimulate sales or increase traffic to your site.
8. Use creative CTAs (except those that ask users to share tweets)
The whole idea of marketing on Twitter is to stimulate sales, generate potential customers, and increase the number of interactions. Creating posts solely in this direction can significantly increase your audience's interest in your brand. Adding CTA to your tweets is the fastest way to achieve all your goals.
You're probably already using a CTA, encouraging users to share your messages. That's great, of course. However, it's not the only CTA that you can use to achieve your goals in your Twitter profile.
Use these calls to action to achieve better results:
Subscribe to us
Visit our website
Visit our online store
Download the full video (manual, price) from this link
Find out more on this link
9. Define success and set goals
A carefully thought out strategy is the basis of success, and it is this strategy that distinguishes successful brands on Twitter from the ordinary ones. Without a clear action plan, you'll be wasting time and money ineffectively, and your social media activities won't help your organization achieve its goals.
Every hour spent on research and strategy will pay off many times.
Answering the question, "Why are we on Twitter?" is not difficult. Start with a list of your organization's current business goals:
Lids generation and sales
Increasing customer loyalty
Increasing brand and product recognition
Reducing customer acquisition costs
Based on these goals, develop specific and achievable goals. This will help measure progress and achieve success. For example, if your goal is to increase sales through social networks, the intermediate goal could be to "provide 30 Leeds per month through Twitter."
When setting goals and objectives, be sure to take the time necessary to achieve them. This will help to track the progress and see that your strategy brings real, measurable results for the brand.
POSTOPLAN is the best management system for social media sites and messengers (Facebook, Twitter, Telegram, LinkedIn, WhatsApp, Instagram, and Google My Business), which has no equal on the Internet. It is universal, easy to use and effective. POSTOPLAN automatic posting on social networks and messaging apps — the best quality/price ratio.