Scheduled posting on Facebook: how to make it quick and easy
Scheduled posting on Facebook
To start planning a post, click on "Schedule a post":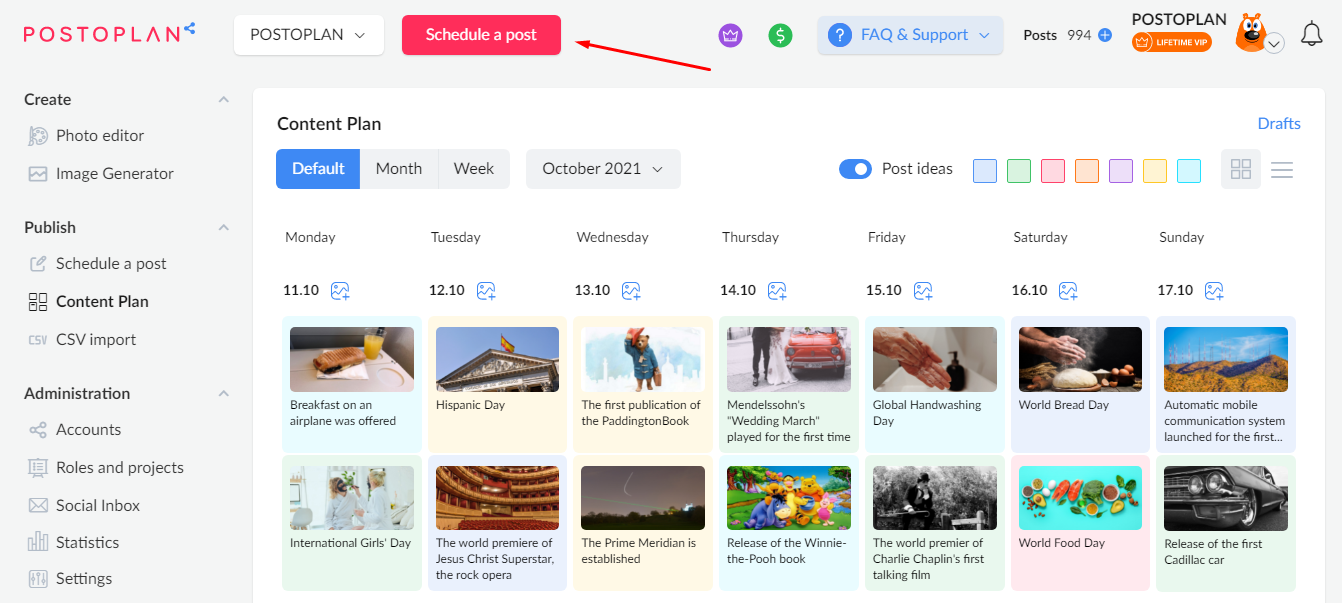 To add text, click on the "Schedule a post" field: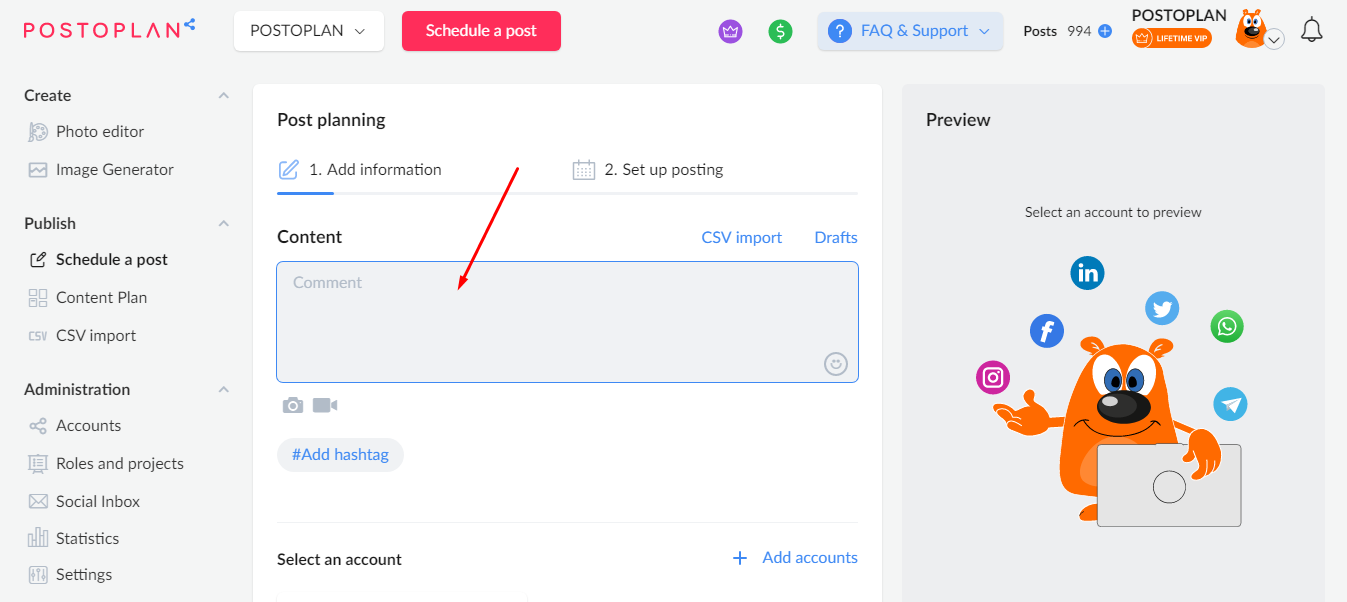 To add an emoticon to the text, click on the emoji icon: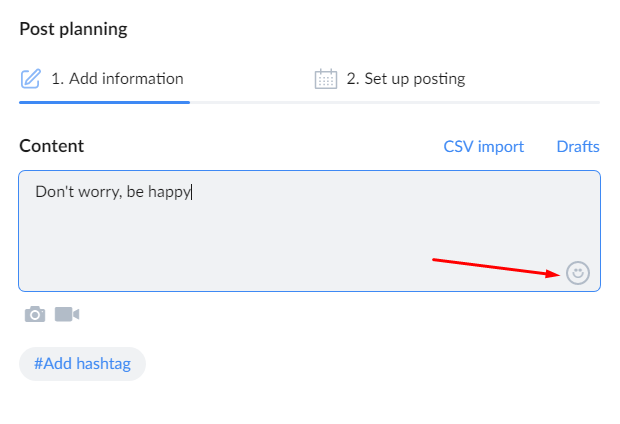 Choose the most suitable emoji from the list and click on it: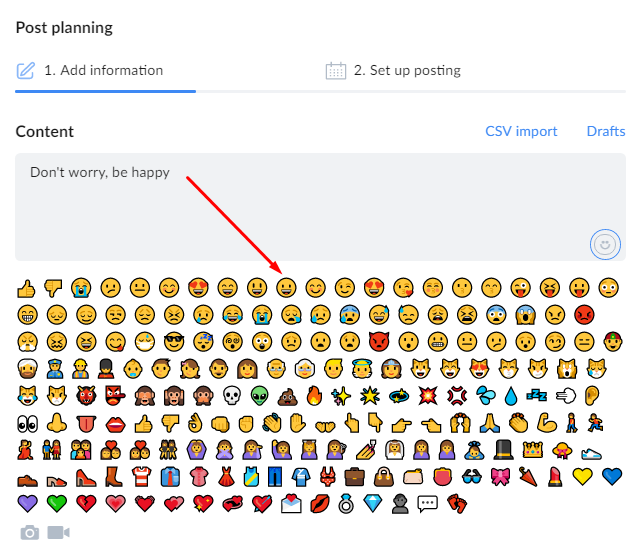 To add an image or video to the post, click on the appropriate icon: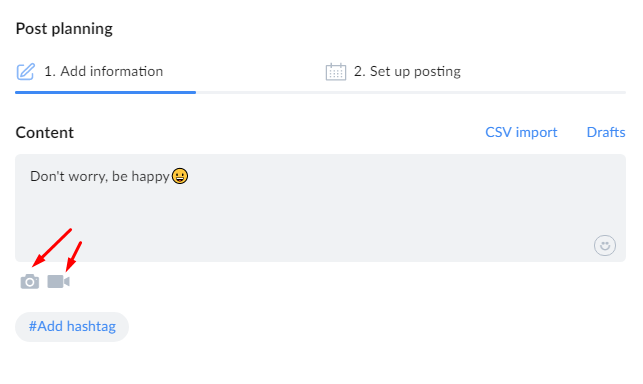 Choose the post category by clicking on the arrow in the "Сhoose a category" section: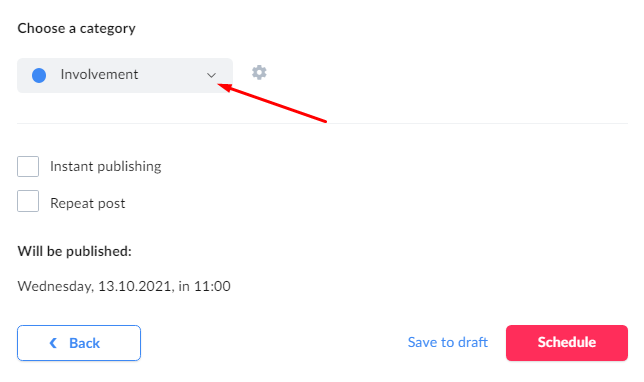 Choose the most suitable category and click on it: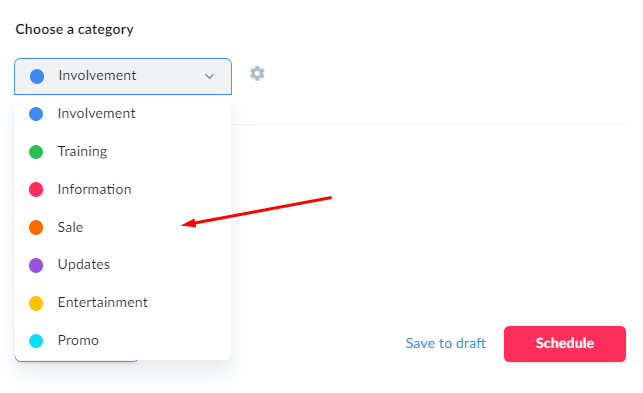 Then, select the groups/pages on which the post should be published. If there is only one account added to the project, it will be already selected by default, and in this case, the post will be immediately displayed in the Preview section.
If you've added several accounts, a preview of the post will be available for all of these accounts. By clicking on the social network icon, we can see how the post will look on the relevant social network.
Choose the desired date of publication and click on it: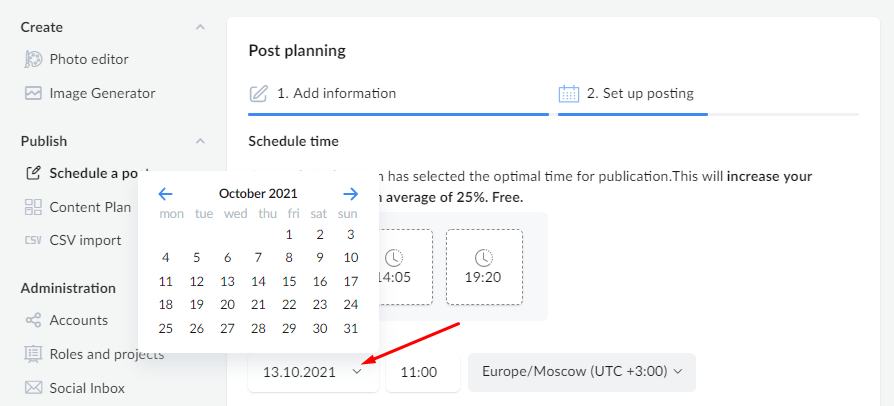 To choose the exact time for publishing, click on the appropriate cell and enter the required numbers: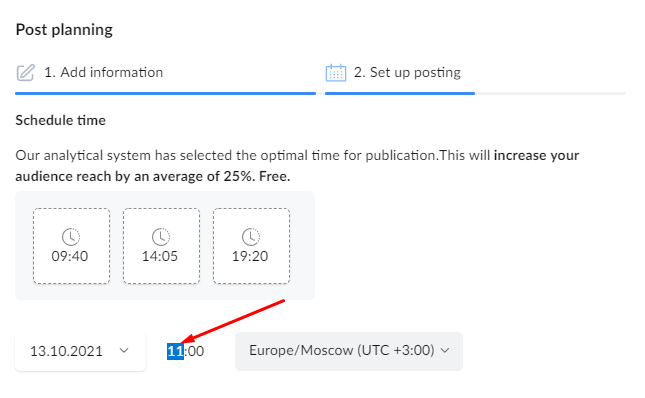 Then click on " Schedule ":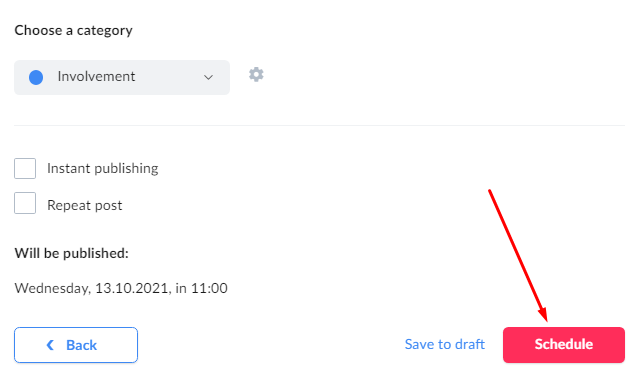 Publication life hacks: Facebook
Make your work on Facebook easier, more productive, and more efficient with these life hacks:
Create a 360-degree photo
Surprise your subscribers with circular panoramas.
How to do this:
– Download the Google Street View app;
– Click on "+" at the bottom right and select "Camera".
 
Use a video as your avatar
iPhone or Android users have the ability to add a 7-second video instead of profile photo.
How to do this on iPhone:
– Tap the avatar;
– Click on "Take a New Profile Video", or on "Upload a Video";
– Then, click on "Edit" to set up the necessary options: "Shorten", "Sound", "Cover", and click on "Done";
– Click on "Frames" to add a frame to the video;
– If you want your profile video to be temporary, click on "Make Temporary" and select the desired date;
– Then click on "Use".
To add an Android profile video, you need to repeat the same steps. Still, there are some differences:
– After clicking on "Edit" Android users will have options: "Shorten", "Cut" and "Thumbnail";
– Instead of "Done" and "Use" there will be a "Save" button.
Supported formats are: .gif; .jpeg; .png; .psd; .bmp; .tiff; .jp2; .iff; .wbmp and .xbm.
Synchronize your Facebook and Google calendars
If you use both of these calendars for work, it's time to combine them.
How to do this:
– Go to the Events section and click on Upcoming;
– Select one of the events and go to its settings;
– Click on "Export Event";
– In the new window, copy the link under the phrase "Subscribe to all nearby events in your calendar";
– Open your Google Calendar and click "Other Calendars" on the left menu;
– Then click on "Add with link", and paste the link.
Configure automatic responses
To respond to requests even when you are not online, set up Response Assistant.
How to do this:
– Go to your settings and click on the "Messaging" tab;
– In the "Response Assistant" section, click on "Jump to Section" to configure all the necessary options.
Advantages of scheduled posting on Facebook
Many owners of large business accounts on FB believe that scheduled posting does not bring any advantages, and therefore its use is a waste of money. Another argument against the use of scheduled posting is the shadowban of FB for using third-party programs. Both arguments are erroneous. 
Planning of posts on social networks provides many advantages for all kinds of business. Saving time and energy can guarantee successful social media marketing campaigns. Below you will find the benefits of using scheduled posting on FB.
1. Maintains consistency and quality
The biggest advantage of scheduled posting on Facebook is maintaining the quality of your content, as you create content much earlier than it is published. Also, scheduled posting allows you to stick to the time intervals between posts.
For example, on Monday you plan all five posts for the week. Since the content is published automatically, all posts will be published on time. Even if you are busy, auto-posting will do everything for you. And since you take the time to create content in advance (rather than thinking about the topic every time before publication), the quality of the content you publish is increasing.
2. Allows you to achieve maximum audience coverage
Hand-publishing content on Facebook is a good thing until you have to post content outside of work hours, for example, at night. This is especially true for accounts of international companies, where you need to reach audiences in all time zones.
Regardless of whether you are planning a product launch or a company renewal, planning takes the pressure off the social sphere and allows you to focus on other things. 
Using delayed FB publications, content is published automatically at your chosen time. Whether it's 7pm or 2am, the content will still appear in your subscribers' feed. This way, you can reach as many people as possible using the minimum amount of time.
3. Allows you to increase efficiency
Finally, content planning on Facebook allows for more efficient work on social networks. According to the American Psychological Association, numerous studies have shown that multitasking reduces productivity. While switching between content creation on Facebook and other tasks may not seem difficult, studies have shown that "even the short-term mental blocks, created by switching tasks, consist of almost 40% of productive time."
One of the main reasons why people are not interested in business accounts is an excessive amount of advertising content. Follow the rule 80/20 (80% creative and 20% promotional content) to entertain and get new customers at the same time. With auto-posting, it will be easy to stick to this strategy.
Along with the timeliness of published content, you can work ahead using POSTOPLAN. Plan your main content on social networks in advance and set the time of publication on the same day. Content planning allows you to work according to your chosen promotion strategy and post more content.
Does Facebook penalize for using auto-posting?
Some specialists say Facebook penalizes accounts that use third-party tools by showing content to fewer people.
Is it true?
POSTOPLAN conducted an experiment to see if it is true. We found that there was no significant difference between automatically published content and hand-published content. Some scheduled content achieved higher statistics than hand-published content.
How to create effective Facebook posts
Before you start publishing content, choose your own style of its presentation. Your own style will help your audience get the best content and help your business avoid embarrassing situations.
1. Publish only what fits the theme of your page
Think about how your Facebook posts will look in the news feed. Will they be relevant to your page? For example, your post may get a ban and not appear in the feed if your post irrelevant to the topic of the group. 
2. Do not overburden your audience
Don't create too much content for your Facebook audience. The same can be said for duplicate messages. Do not overload your readers with information by sending the same messages over and over again. This will only make the statistics worse.
3. Publish your posts at the right time to get the most out of them
The more people see your Facebook posts, the more opportunities you have to increase activity, traffic, and get new subscribers or customers.
Our experts have found that the best time to post on Facebook is between 12 and 3pm on Monday, Wednesday, Thursday, and Friday. On weekends this time changes. The best time is from 1 to 4pm.
4. Keep an eye on the analytics
Knowing your target audience and your clients is the first step towards creating effective content that will appeal to the audience and make the right impression. 
POSTOPLAN makes it easy to plan your content on social networks. Manage content across all platforms from one place.
5. Make an experiment with long publications
It is very important to know how many words your audience is ready to read. Sometimes a short description of an event or topic is enough. In some cases, it is necessary to publish a long text to get your audience as interested as possible. Publish posts of different sizes and analyze which content your audience likes more. 
6. Encourage subscribers to leave comments
Leave questions at the end of the publications and encourage the audience to communicate in the comments. People like to communicate but also like to argue. Active commenting on your content will not only increase the engagement of subscribers but also increase your statistics, so make sure you come up with questions for your subscribers that they can't ignore. 
7. Use the Call to Action (CTA) 
Call to action plays an important role in the posts. People do what they are asked to do. Therefore, a post with the words "Leave likes and comments!" will be more successful than a post without them. You can experiment and see for yourself.
7 options for engaging content every day
1. Photography and infographics
Visual information is perceived much better than dry text, and this has been proven by scientists. It takes several times longer to perceive text than to perceive photos. It is very convenient to replace the long text with infographics. Infographics are convenient because they convey the meaning compactly and are easy to perceive and remember. Moreover, infographics are the content most likely to go viral.
Publish photos of employees, happy customers, and use photos that are difficult not to pay attention to. The success of the post often depends on the photo. 
2. Tips "What to do if…"
People appreciate practical advice, especially for things that are difficult to find an answer to on the Internet. Publish a ready-made solution or an algorithm for dealing with the problem when it occurs. This post will significantly increase your statistics. 
3. Video
Now video content is at the peak of its popularity. It has huge popularity, often goes to the top of the search, and brings new customers. By neglecting the use of video, you lose new customers. 
Add subtitles to your video to make your audience as interested as possible. Since FB videos are played silently, subtitles will help you get the subscriber's attention and get them to finish watching the video. 
4. Show the backstage of your business 
People really appreciate exclusive information. Publish work photos and share experiences and achievements. This will not only improve your account statistics but also increase subscribers' confidence in you and your services. 
5. Publish interesting quotes
This is probably the most "eternal" type of content that has lived since the very beginning of the Internet. Very often, quotes become viral content. They quickly spread across the pages of FB users and quickly gain likes. However, you should not be fond of publishing citations; too many of them can have a negative impact on statistics. 
6. Feedback from clients
Feedback is the best way to increase trust in the brand. All you have to do to get it is to contact the customer and ask about his impressions of the product or service. Video reviews are very effective, although it is quite difficult to get them. 
7. Congratulations
This is probably the most universal type of content. There are a lot of holidays in the year, but you should not overdo it and congratulate everyone. Send holiday wishes to the audience only for those holidays which have something to do with your business. 
The most banal wishes are Happy New Year, March 8th, and Easter. However, if you go further, you can find many professional holidays. Publish interesting articles on the theme of holidays and offer discounts. 
Holiday wishes will allow you to create a friendly relationship between your business and the audience, increase confidence, and get new customers. 
Tips to optimize your Facebook page 
1. Complete the page profile
Add the cover to your profile. Why is it so important? The cover is the first thing a visitor sees. It has to be catchy and interesting. A professionally made cover is one of the keys to effective promotion on Facebook. 
Fill in all fields for information. This will help attract new subscribers from the Facebook search. The Facebook page address plays an equally important role. It should be easy to remember and simple. If you have more than one social network, use the same address everywhere. This will increase the visibility of your business on social networking sites. 
2. Optimize your page
Are you surprised? Facebook has SEO rules like Google. To properly optimize your Facebook page, gather a list of keywords that are relevant to your business. Make sure you use them in the first 75 characters of your page description. It will be equally important to use them in the posts and descriptions of the video (or photo) you upload. 
3. Fix important posts
Fixed content is the first thing that anyone who visits your page sees. A locked post should only contain important information that is obligatory to read. A fixed post can be:
Announcement of a time-limited event, such as a sale
An effective long read or any other article which has good conversion rates (brings in customers)
Content that is created with partners and increases trust in you
What is a content plan, and why do you need it?
 A content plan is a marketing strategy to promote your business (brand) on social networks. A well-designed content plan includes:
A clear list of goals and objectives
Audit of existing social network accounts
Competitive analysis
The basic outline of social media content strategy
Content plan
Methods of performance measurement and analysis
Developing an effective strategy for social networks takes time. An effective content plan is necessary to ensure the successful presentation of the company in social networks.
POSTOPLAN is the best management system for social media sites and messengers (Facebook, Twitter, Telegram, LinkedIn, WhatsApp, Instagram, and Google My Business), which has no equal on the Internet. It is universal, easy to use, and the most effective. Automatic posting from POSTOPLAN — the best quality/price ratio.