Scheduled posting on Telegram: how to do it quickly and simply
Scheduled posting on Telegram
To start planning a post, click on "Schedule a post":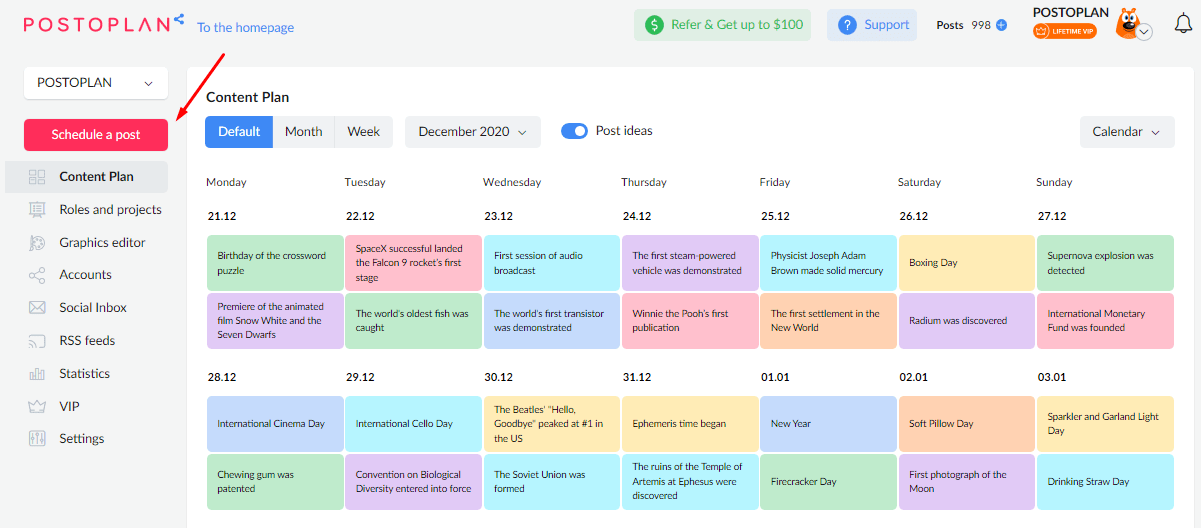 To add text, click on the "Schedule a post" field: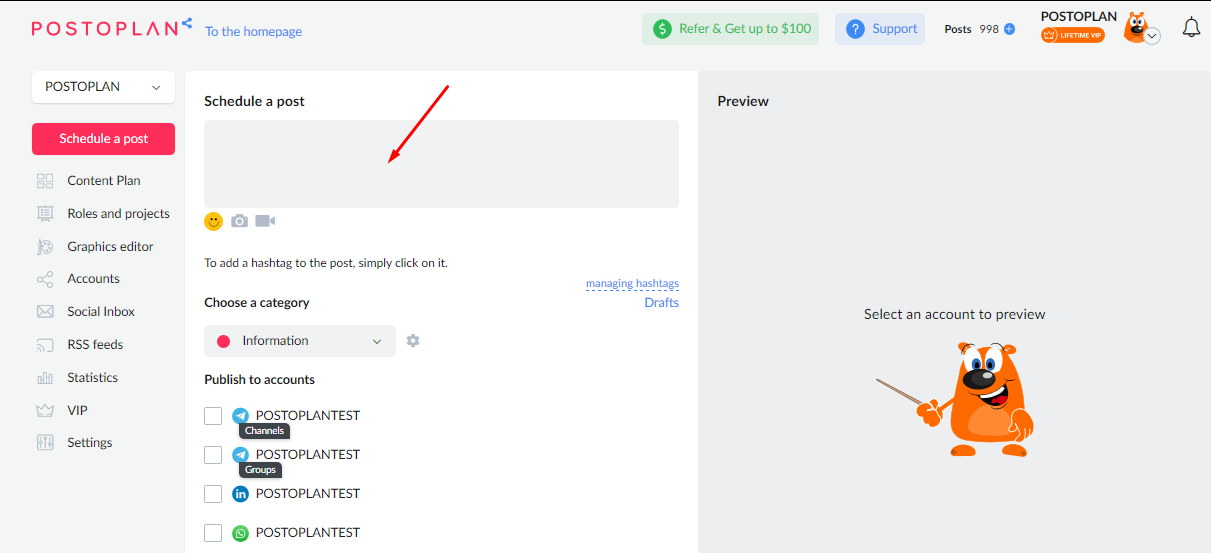 To add an emoticon to the text, click on the emoji icon: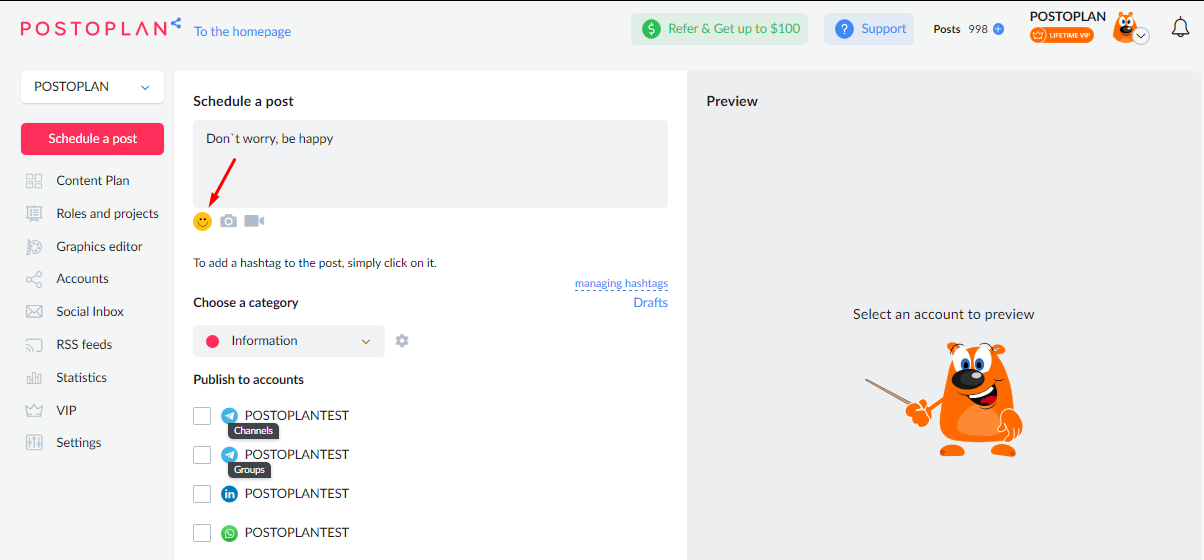 Choose the most suitable emoji and click on it: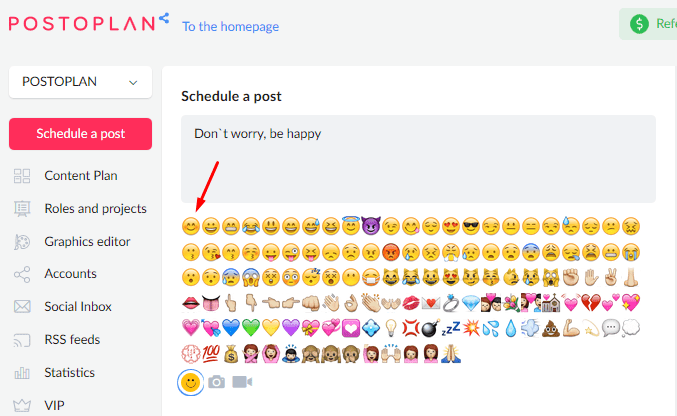 To add an image or video to the post, click on the appropriate icon: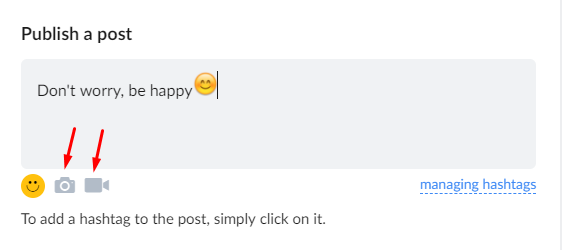 Choose the post category by clicking on the arrow in the "Сhoose a category" section: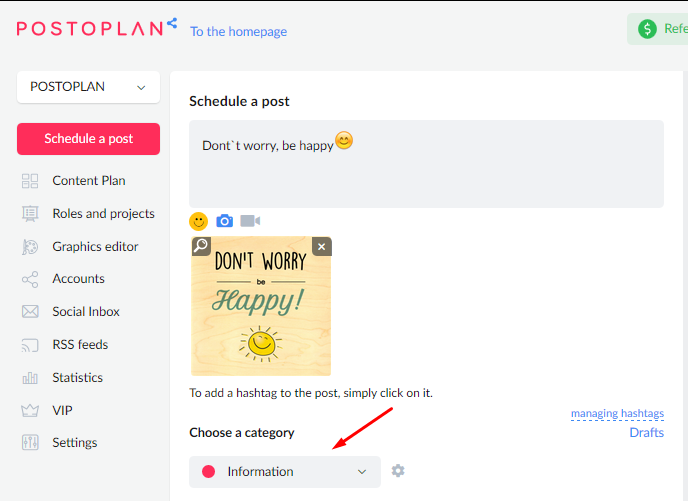 Choose the most suitable category and click on it: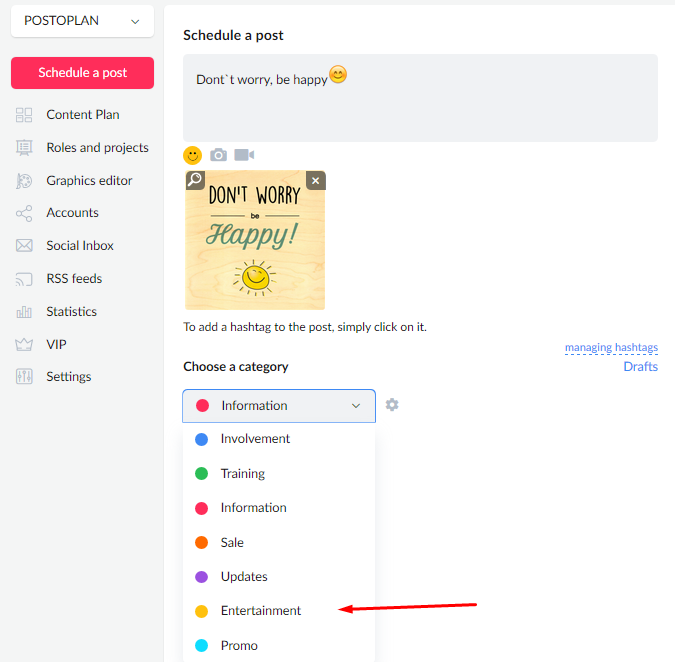 Then, select the groups/pages on which the post should be published. If there is only one account added to the project, it will be already selected by default, and in this case, the post will be immediately displayed in the Preview section.
If you've added several accounts, a preview of the post will be available for all of these accounts. By clicking on the social network icon, we can see how the post will look on the relevant social network.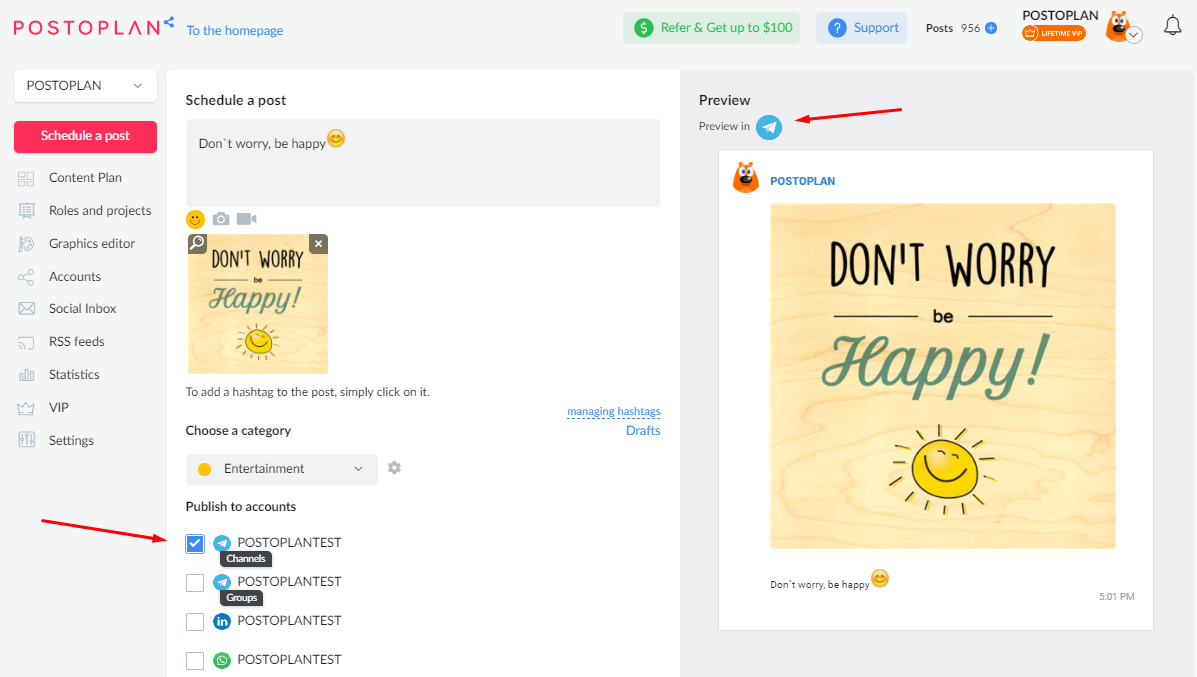 Select the desired date and click on it: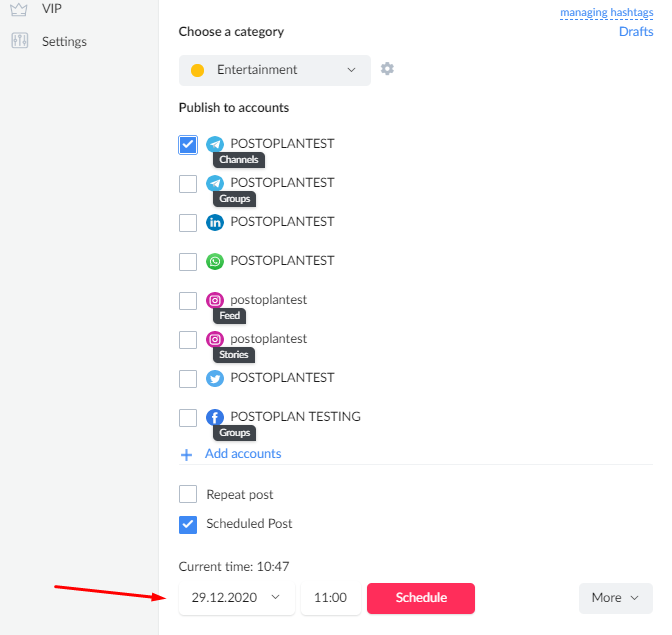 To choose the exact time for publishing, click on the appropriate cell and enter the required numbers: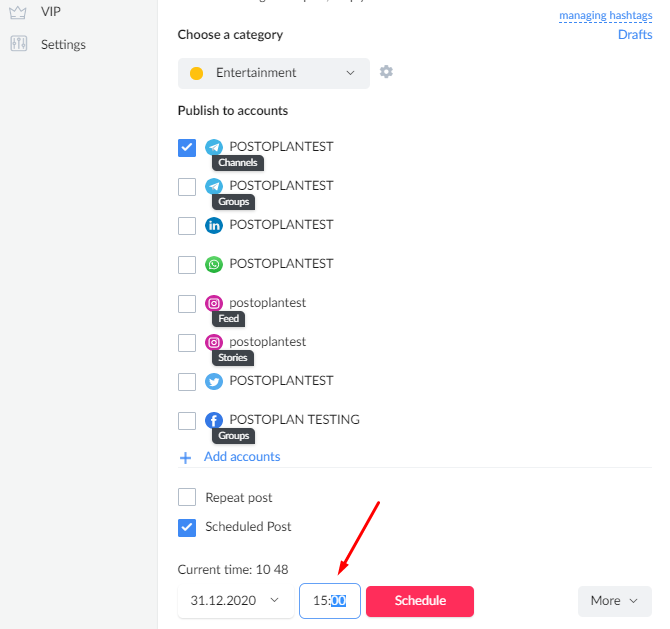 Then, click on "Schedule":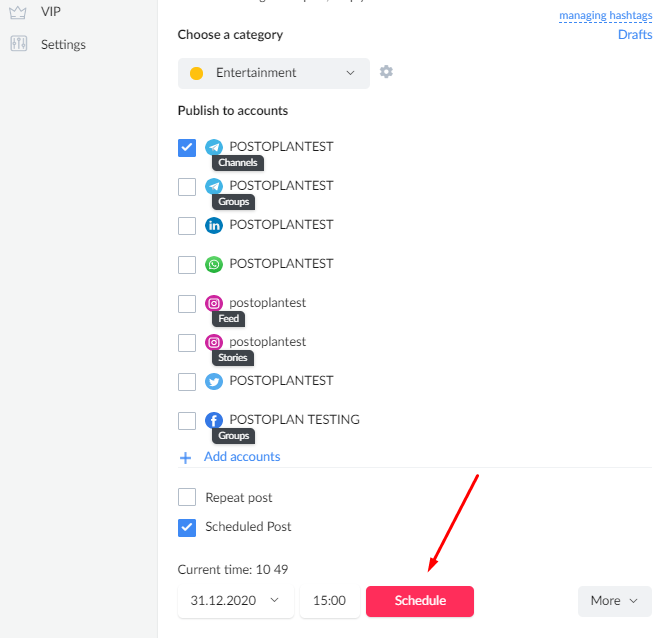 Publication Life hacks: Telegram 
Make your work on Telegram easier, more productive, and more efficient with these life hacks:
Pin the important contact
So it will always be at the top of the list of chats.
How to do this:
– Go to the mobile version of the application;
– Click on the desired chat, and hold until the chat menu appears;
– In the top menu, click on the "drawing-pin" icon.
To unpin a contact, click the "drawing-pin" icon again.
Add important posts to your Favorites
The messaging app allows users to save their favorite posts in a separate chat.
How to do this:
– Click on the repost button near the post;
– Among the chats where you can send a message, you will see a "Favorites" chat—click on it, and then on the "Send Message" icon.
Create anonymous channels
Telegram provides an opportunity for users to create anonymous channels, which can be accessed only via a special invitation link.
How to do this:
– Open the messaging app menu and click "Create Channel";
– In the opened window, enter a name and, if necessary, a description;
– Then, click on "Create";
– Select "Private Channel", and the invitation link will appear below;
– Click on "Save". 
Change the domain link 
If the service fails, some links like "http://telegra.ph/Kak-delat-dengi-na-Telegram" may not work. In order for the link to open, you need to replace the "telegra.ph" domain with "graph.org" in the address bar.
What is content strategy, and why is it needed?
Developing a Telegram channel requires making enticing content, regularly updating it, and using ads. Before starting to advertise your channel, make sure you have a clearly defined content strategy and content already on your channel.
Content strategy is a type of marketing strategy for promoting your business (or brand) on social media. A well-made content strategy includes:
A clear list of goals and tasks
An audit of existing accounts on social media
Competitive analysis
An outline of your content strategy's principles for social media
Creating a publication plan
Methods to measure and analyze the effectivity
Developing an effective strategy for social media requires time. An effective content plan is necessary to create a company's successful presence on social media.
10 ways to speed up your Telegram channel's growth
1. Use social media
Start by adding your Telegram channel's links to your own social media pages and use Facebook or Instagram advertisements to publicize it. Another good option is adding a link to your channel on your website on your contact page or on your home page. The second option is the best place to put your Telegram channel link.
2. Put your link everywhere you can
Add your channel to all of your communication material and tools like emails, articles, and social media publications. You'll receive additional traffic to your channel from all the places that are related to your brand.
3. Write an article about your Telegram channel and publish it on your blog (on social media)
Write a message about your Telegram channel and publish it on a blog or on social media. If the people reading your blog like your content, then they'll subscribe to your channel. Since images attract readers' attention the most, definitely use them on your Telegram channel and blog.
4. Place your channel in Telegram's channel catalog
If you don't have a large budget to advertise your Telegram channel, you can use the free Telegram channel catalog. It's one of the best ways to get a small amount of traffic for your channel. If your advertising budget is relatively small, you can count on this one. Of course, if you want to get into the catalog, you'll need to meet the set requirements.
5. Use forums to spread your channel
Definitely advertise your channel on forums like Quora, Reddit, and Mail.ru. Despite most marketing experts thinking that forums "died off," they have retained their effectiveness. Respond to comments and leave your channel's link in comments on the corresponding posts. Even famous brands like IKEA and Adam&Eve use Reddit to advertise their products.
6. Use ads 
Telegram doesn't allow any form of paid ads and, according to its creator, it never will. So, as long as Telegram doesn't allow paid ads, the only way to expand your channel and attract new subscribers is high-quality content and external ads (like Facebook and Instagram).
An ad from reliable sources will increase the number of subscribers on your channel due to the increased amount of views. All you need to do is find channels with good traffic and similar content, contact the administrator, and pay for an ad for your channel in their communities.
7. Don't forget about Telegram stickers
If you want to expand your channel or attract new subscribers, use the benefit of creating personalized stickers in Telegram. You can create your own stickers with logos, mascots, and various messages so your channel will have amusing and attractive ads.
The stickers will be used by your subscribers in their personal messages. Since Telegram receives about 500,000 new users daily, and there are more than 70 billion messages sent by them, just imagine what kind of fame you can get from using Telegram's stickers. 
8. Don't forget about mutual PR
Any kind of content can be exchanged with similar Telegram channels. You will share their content, and they yours. It's a fairly easy way to increase the number of subscribers to your channel. However, mutual PR occurs between channels with a comparable number of subscribers. If you have fewer subscribers, then it's likely you'll have to pay to advertise your content.
9. Make your own bot on Telegram
A Telegram bot will help you save some money and improve the team's control process since a bot can fulfill a wide range of functions. Making a Telegram bot is fairly simple.
10. Follow the amount and quality of your content
Very frequent exchanging of content between channels can cause you to lose subscribers. This is a wide-spread mistake made by "young" channels. Since Telegram is an app to exchange instant messages, getting too many notifications from one channel can frustrate and anger your subscribers. So, aim for high-quality content, not a large amount of it.
Using scheduled posting on Telegram
Scheduled posting in Telegram is very important for high-quality, wide-spread content. POSTOPLAN can publish any type of content from text messages and images to GIFs and videos at any time.
POSTOPLAN is considered the best tool for scheduled content posting. It's able to fulfill a wide range of responsibilities that exist between coworkers on social media. Expanding your channel will require more and more responsibility for the content's quality and publication punctuality. This is what POSTOPLAN can help you with.
Does Telegram penalize autoposting?
Some people think that Telegram will sanction your channel for using autoposting, which makes your publications less effective. This is a mistaken belief. Telegram doesn't place any limitations for using scheduled posting tools.
We've done the research ourselves to convince you, and it showed that autoposting doesn't negatively affect your publications' reach. Moreover, 20% of automatically published messages found better statistics than messages published manually.
POSTOPLAN is a unique service. You will plan your content and communicate with your subscribers and clients in one convenient interface. POSTOPLAN has more than 700 ideas for publishing in the calendar. Are you looking for a reason to make content? Go into your calendar, choose from several prepared news hooks, and in just one click, send it to your subscribers. POSTOPLAN is the best service that you could find for scheduled content posting.
 Remember, organic reach and subscribers don't grow on their own. Your attempts will be powerless if your general content doesn't interest your audience independent of your type of chosen channel communication.
Here are 12 pieces of advice that will help make your channel successful
1. Carry out surveys on Telegram
One of Telegram's most attractive options is the ability to create a survey in groups and channels. If you want to know how satisfied your clients are with your products and services or content, create a survey and publish it. That way, you'll be able to get specific and reliable results that will let you know what you need to change or not change if necessary.
2. Create your own unique logo
In business (more so on social media), you always need to be unique. Your own unique logo will let you increase your reputation. Don't use copies of pictures while designing your logo. Be creative. The best option will be going to a professional designer who will make the most modern and attractive logo.
3. Publish video content
Every channel tries to publish as much variety in its content as possible, including text, picture, GIF, and video content. Long walls of text aren't very popular because the readers need to spend a lot of time on it. Try using pictures and short texts as well as videos. They show a higher degree of effectivity on audiences.
4. Come up with a unique name for your Telegram channel
If you want to advertise your channel in other groups or channels, the first thing the users will see is your name. That's why your channel's name plays a big role in its success. It should be interesting. Otherwise, the users won't pay attention to it. The more unique and interesting your channel's name is, the more successful your ads on other channels will be. The exception is when your channel's name is the same as your brand's name.
5. Don't publish too many ads on your channel
Most channels with large audiences use ads as an income source. It's important to understand that too many ads could anger your audience and make them leave your channel. So, try to leave noticeable gaps between advertising posts and publish more high-quality content. If you represent a business (brand), don't forget to delight your audience with free services like instructive audio files, discounts, and podcasts.
6. Publish high-quality content
Your content should be high-quality, and it should also be unique when compared to competing channels' content. Otherwise, your content is useless. Don't copy information from other channels. That could damage your reputation, which will be very difficult to restore.
7. Write an interesting and unique channel description
Your channel's description is very important since it's often the second thing that someone sees when they visit your channel. The description should show your uniqueness (just like the logo). Definitely use hashtags in the description. It will give your channel an additional traffic source.
8. Be honest with your audience
Whatever you publish and how you communicate with your clients and channel members will passively affect your popularity. It could increase or decrease your clients' loyalty to you. By being respectful with your audience and offering services, you'll receive a large number of responses to your page and find new clients.
9. Exchange content with other channels
One of the best ways to increase your number of subscribers on your Telegram channel is mutual content exchange. Mutual PR is only worth it with channels that have good content since channels with bad content in general have bloated users (bots), and it won't give you any benefits.
10. Place a link to your website in your channel description
How can I get additional traffic to my website using a Telegram channel? It's easy! Place a link in the description, and interested users will go to your website on their own. Also, don't forget to publish links in your content. It's an equally effective way to attract traffic. If you're an online store, an attractive offer is publishing a coupon and setting a limit with a link to your website.
11. Use a call to action (CTA)
A call to action plays an important role in spreading any content. People do what they're asked. So, a message with "definitely visit our website" will be more effective than one without it. You can experiment and see for yourself.
12. Follow your analytics
Knowing your whole audience and clients is the first step to creating effective content that will be liked by your audience and bring new impressions.
POSTOPLAN makes planning your social media content easier. Send your content to all your platforms, and work with your audience in one interface.
POSTOPLAN is the best management system for social media sites and messengers (Facebook, Twitter, Telegram, LinkedIn, WhatsApp, Instagram, and Google My Business), which has no equal on the Internet. It's universal, simple to use, and as effective as possible. POSTOPLAN's automatic posting system for social media and messengers has the highest quality for the price that you can find.